Lawn & Garden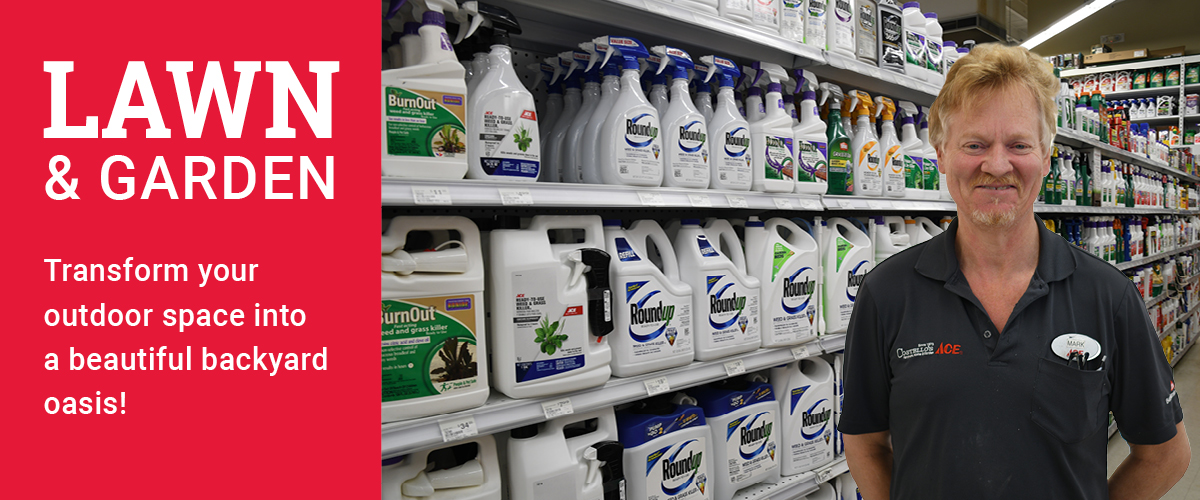 Lawn Care
Jonathan Green 4-Step Annual Program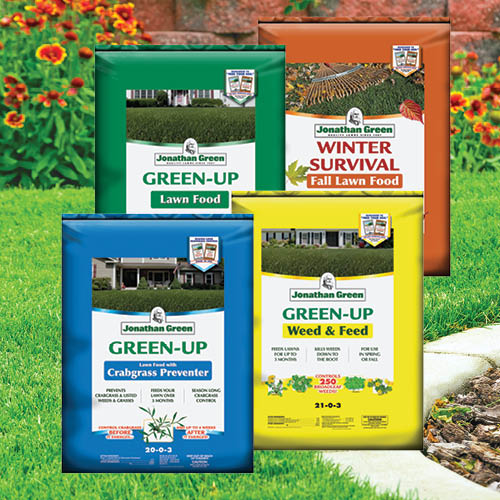 ---
Jonathan Green Premium 4-Step Annual Program
Early Spring – Apply Crabgrass Preventer plus Green-Up Lawn Fertilizer to feed the lawn and provide season long crabgrass prevention.
Late Spring – Apply Weed & Feed Lawn Fertilizer to feed the lawn and kill over 250 broadleaf weeds like dandelions, chickweed, clover and oxalis.
Summer – Apply Mag-I-Cal® Plus for Lawns in Acidic & Hard Soil to raise soil pH, loosen hard soil and activate the soil microbial life.
Fall – Apply Winter Survival Fall Lawn Fertilizer to feed the lawn and help prepare it for the long harsh winter ahead. Use on the same day as you seed in the early fall for optimal results.
(JG5P)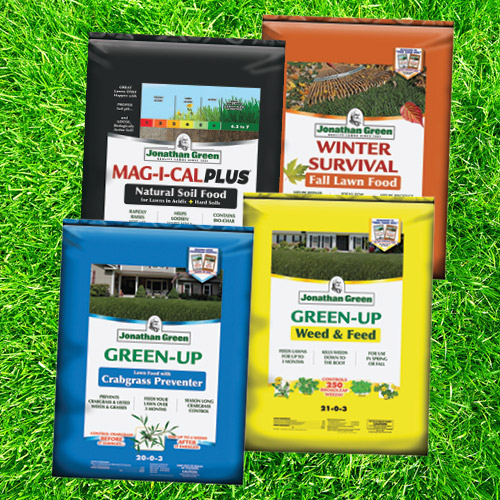 ---
Scotts 4-Step Annual Program
Scotts® Step 1 Crabgrass Preventer Plus Lawn Food – Scotts Step 1 Crabgrass Preventer Plus Lawn Food can improve a lawn's ability to absorb water & nutrients. Apply in early spring for a fast green-up after winter. It also controls crabgrass for up to 4 months! Utilize the entire Scotts® 4 Step program for a better lawn.
Scotts Step 2 Weed Control Plus Lawn Food - Scotts® STEP® 2 Weed Control Plus Lawn Food 2 builds thick, green turf from the roots up. It uses Scotts® Exclusive Particle Technology to get the weeds you see and the ones you don't. Apply Scotts® STEP® 2 Weed Control Plus Lawn Food 2 in late spring for best results. Utilize the entire Scotts® 4 Step program for a better lawn.
Scotts Step 3 Lawn Food with 2% Iron - Scotts® STEP® 3 Lawn Food With 2% Iron can be applied for a great green-up. It also strengthens the lawn against heat and drought. Utilize Scotts® STEP® 3 Lawn Food With 2% Iron, and the entire Scotts® 4 Step program, for a better lawn!
Scotts Step 4 Fall Lawn Food - Using Scotts® STEP® 4 Fall Lawn Food is a great way to strengthen your lawn before the winds of winter cut across it. It helps your lawn build stronger roots for the winter. You'll see a thicker, greener lawn in spring thanks to using Scotts® STEP® 4 Fall Lawn Food. Utilize the entire Scotts® 4 Step program for a better lawn!
(7287154)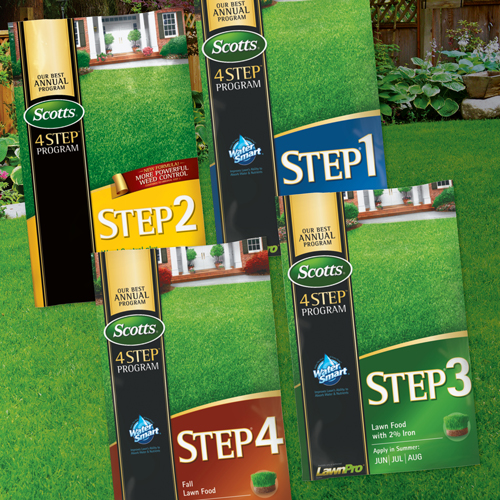 ---
Scotts Foundation Soil Improver
Strong soil is the foundation for a great lawn. Use Scotts Foundation Soil Improver to help strengthen and improve your soil to give your lawn a solid base. Scotts Soil Foundation Soil Improver contains natural ingredients that can help reduce soil compaction, boost water and retention, as well as support improved soil quality. Okay to use with all grass and soil types--in lawns and gardens. Apply with a Scotts broadcast, rotary, drop or Wizz spreader. Apply in the spring to prepare for the growing season or in the fall for overseeding or aeration. (7796030)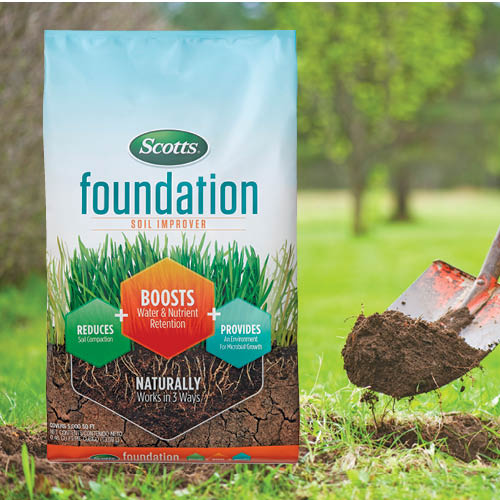 ---
Scotts EZ Seed
Scotts® EZ Seed® Patch & Repair Sun and Shade is a revolutionary seeding mix that guarantees seeding success! The unique combination of Scotts® high performance seed, premium continuous release lawn food, and super-absorbent growing material, makes it possible for grass to grow anywhere, guaranteed. Scotts® EZ Seed® now has a tackifier to reduce seed wash-away on sloped areas of your lawn! Subject to proper care.
Grows anywhere, guaranteed! (Subject to proper care.)
Reduces seed wash-away, so EZ Seed® even grows on slopes
For sunny, densely shaded or high traffic areas
Absorbs 6X its weight in water
Combination seed, mulch and fertilizer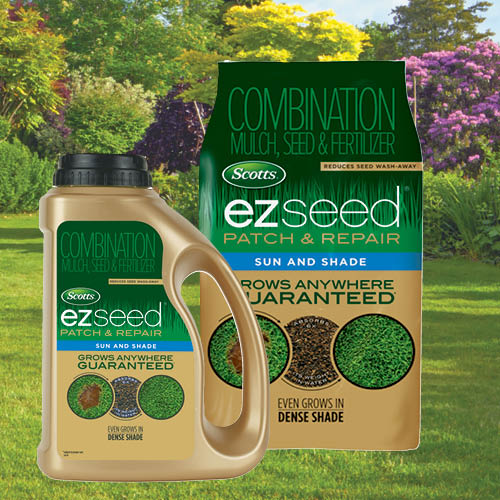 ---
Miracle-Gro Potting Mix with Fertilizer
Your plants want to show off. Give indoor and outdoor container plants the right ingredients to grow bigger and more beautiful with Miracle-Gro® Potting Mix. Our specially formulated mix feeds for up to 6 months for more blooms and more color. Use with indoor and outdoor container plants. Grows Plants Twice as Big! vs. unfed plants
Grows Plants Twice as Big!® vs. unfed plants
Feeds up to 6 months
More blooms for more color vs. unfed plants
For indoor and outdoor container plants
For use in containers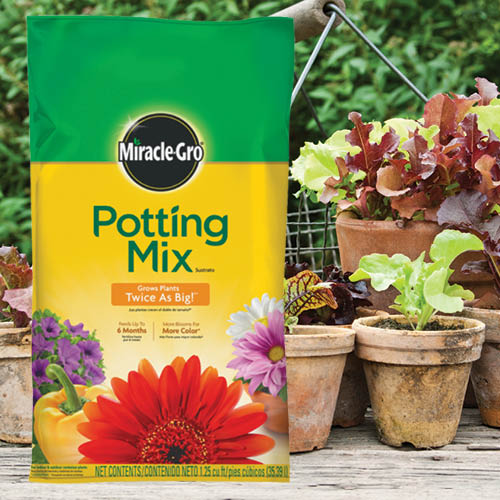 Birding
If you LOVE attracting birds to your yard, you've come to the right place! We have feed, feeders, bird baths and more to keep your feathered friends happy year-round. See one of Costello's Ace Birding associates to learn more about our wide variety of choices!
Ace Wild Bird Food
Black-Oil Sunflower Seed
Kaytee Songbird Seed
Heath Bird Suet
Pest Control
If pests are invading your space, it's time to come to Great Lakes Ace Hardware. Our experts will help you get the right products and materials so that bugs and rodents stay away from your home & help you feel at ease
---
Ortho Home Defense
Don't just kills bugs; create a bug barrier with Ortho® Home Defense® Insect Killer for Indoor & Perimeter2 with Comfort Wand®. Whether you have ants, spiders, roaches or other home-invading insects, you can count on Ortho® to keep them out. Simply plug in the Comfort Wand®, and with one touch you can kill and protect against pests.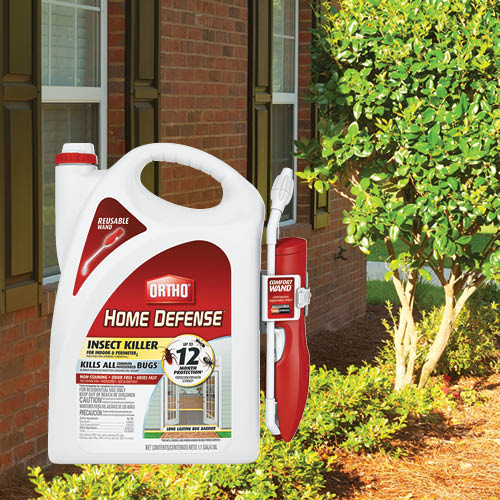 ---
Roundup
Kill the toughest weeds and grasses down to the root with Roundup® Ready-To-Use Weed & Grass Killer III with Pump 'N Go® 2 Sprayer! The formula is ideal for use in and around vegetable gardens, flower beds, tree rings, and mulched beds, as well as on cracks in driveways, walkways, and patios. Plus the Pump N' Go® Sprayer with an extendable wand provides 10 minutes of continuous spray to ensure that problem weeds and grass will stay away! This convenient, no-mix formula is rainproof in just 10 minutes - AND you get visible results in 3 hours. Kill weeds faster with Roundup®.