Costello's Ace Hardware of Farmingdale
1102 Route 110
Farmingdale, NY 11735
Fax: 631-694-1102
Managing Partner:
George Castro
Directions
AceHardware.com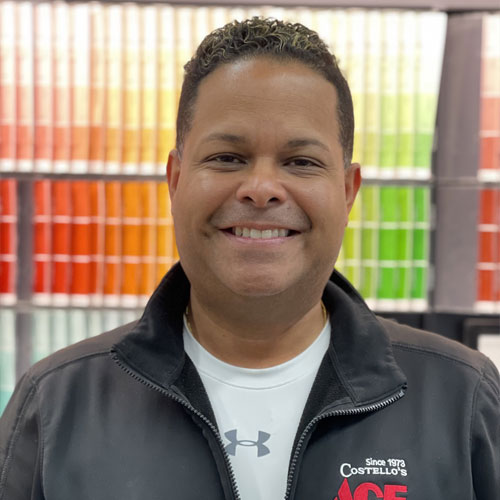 STORE HOURS
| | |
| --- | --- |
| Sunday | 8:00am - 6:00pm |
| Monday | 7:30am - 9:00pm |
| Tuesday | 7:30am - 9:00pm |
| Wednesday | 7:30am - 9:00pm |
| Thursday | 7:30am - 9:00pm |
| Friday | 7:30am - 9:00pm |
| Saturday | 8:00am - 9:00pm |
---

What Our Customers Are Saying
Love this store. They always have what I need and if they don't they suggest alternatives.
This is an incredible store. Aside of such a giant selection... The staff not only knows where everything is... they are also super helpful. Call them on the phone for one single odd ball thread bolt? They will look, find, confirm AND Set it aside. All the Costello stores are good... but this one sets the pace.. 9-27-22 I'm updating this review just to confirm, this store is STLL very well stocked and managed. Great store Great Staff. Often the prices are better than the big box stores too. I have been to ALL the local hardware stores and this remains the best.
Went in tonight to get a replacement battery for my sister in law's key fob and had great service, they put in the battery for no extra charge and all seemed good. Unfortunately we didn't have her car so couldn't test it and it didn't work when we got back. We went back and the employee Melanie was so patient and took it apart to check everything was okay and then tested it after reassembling and now it worked. Such great customer for such a minor sale is why I always go to ACE over HD or Lowes if I can.
I have been to this location in Farmingdale a few times in one week. Everytime the service as been wonderful! Always great with good vibes and helpful staff. Pat is knowledgeable and very helpful as well as Colleen. Great hard working staff. Everything I needed to fix a toilet and phone outlet they had. So nice to go here because I know I'll receive great customer service and the supplies I need.