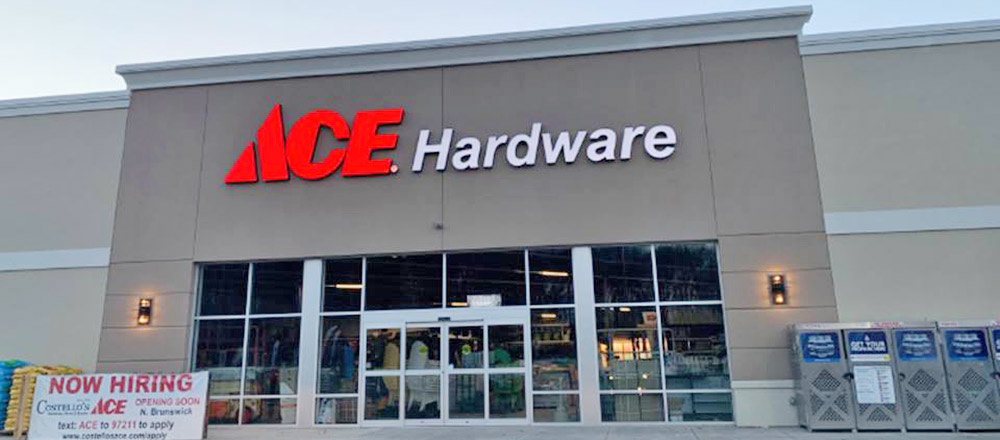 Costello's Ace Hardware of North Brunswick
1345 US-1
North Brunswick Township, NJ 08902
Managing Partner:
Kathy Gruber
Directions
AceHardware.com

STORE HOURS
| | |
| --- | --- |
| Sunday | 8:00am - 6:00pm |
| Monday | 8:00am - 8:00pm |
| Tuesday | 8:00am - 8:00pm |
| Wednesday | 8:00am - 8:00pm |
| Thursday | 8:00am - 8:00pm |
| Friday | 8:00am - 8:00pm |
| Saturday | 8:00am - 8:00pm |
---
What Our Customers Are Saying...
"I ordered a grill over the phone, and they delivered it to me fully assembled. The grill was delivered by a proper store employee (not some delivery subcontractor) who was familiar with the product and happy to answer my questions. When I subsequently was unable to get the grill to run because I had a faulty gas tank (from elsewhere, not in any way the fault of Ace Hardware), I called them to see about purchasing a new tank from them, and they delivered one to me within an hour, which is above and beyond my expectations. The grill works great now! They have earned my business; I'll be visiting the store in the future."

What Our Customers Are Saying
Very comprehensive selection, neatly organized and well lit. Very friendly staff. Excellent store, will be back.
Very well-stocked, especially fasteners, blades, and bits. The Ace website helps you find which stores have which products and they all seem bigger on the inside than on the outside. And I have not yet found someone working in an Ace that does not know their stock very well--unlike the big-boxers.
I started a furniture refinishing project for the first time and came to Ace to buy my supplies. I couldn't have asked for a better experience - the staff was extremely friendly, knowledgeable, and helpful. I asked them for help on choosing a paint color, and they were very patient in explaining the different options and helping me select the best one to take home. I completed my project and to my dismay I realized when it was in my home it didn't match how I expected it to…I called and asked if it would be possible to tweak the paint color so I can do another final coat and they said they would help in any way they could. I brought my opened paint can and John was able to turn it into the color of my dreams. I am so happy with the result and with the amazing customer service! Thank you to the entire staff and for the personalized touch you give to every shopper.