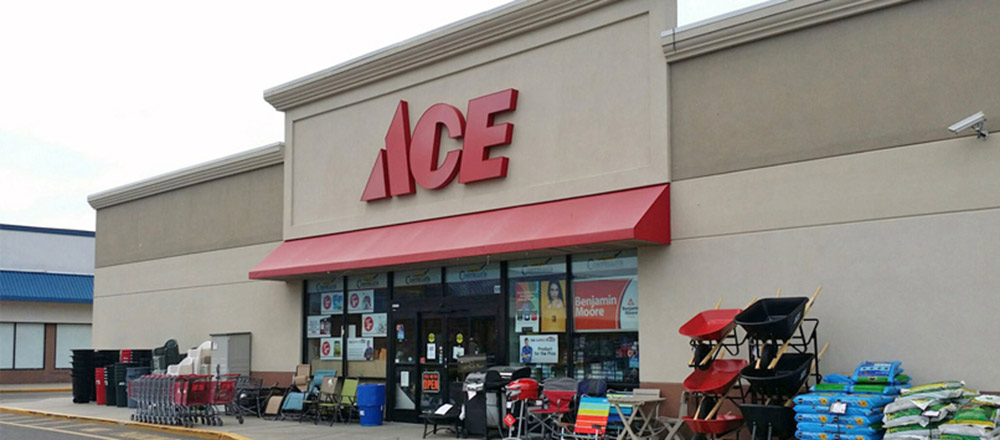 515 Montauk Hwy
West Babylon, NY 11704
Fax: 631-586-1512
Managing Partner:
David Berkenfield
Directions
AceHardware.com

STORE HOURS
| | |
| --- | --- |
| Sunday | 8:00am - 6:00pm |
| Monday | 8:00am - 9:00pm |
| Tuesday | 8:00am - 9:00pm |
| Wednesday | 8:00am - 9:00pm |
| Thursday | 8:00am - 9:00pm |
| Friday | 8:00am - 9:00pm |
| Saturday | 8:00am - 9:00pm |
---

What Our Customers Are Saying
Didn't have what I needed.. But they took the time to order what I needed and contacted me to let me know it came in.
The normal costello but very good customer service
Very friendly staff, they were able to direct me to anything I needed quickly and without hassle. The selection at this store isn't as large or diverse as most larger hardware stores but the friendly and knowledgeable staff make up for it. After purchasing extra supplies I needed to return one item and it was simple and hassle free.
I needed help with a bunch of really odd and end hardware for work. I work in an operating room , so I must be really precise. Not on people but on the surgical robots and lasers. Most of the time I would get the hardware from the manufacture. The last two times I had a deadline to meet and of course I turned to COSTELLO'S ACE HARDWARE. The first time PETE spent about 1/2 hour with me looking for matching hardware. This guy is FANTASTIC . Pete knows his stuff and is wonderful to deal with. One other time , I had another issue and Rich helped me. Another OUTSTANDING associate . Rich did not hesitate to locate hardware for me. Costello's Ace has one great team. I will not shop anywhere else. The team at COSTELLO'S ACE HARDWARE goes way beyond in the customer service department and in the KNOWLEGE department. They are all OUTSTANDING and extremely PROFESSIONAL . You do not get that anymore, however at Costello's you do.. Again to Pete , Rich and the whole Costello's team . ONE BIG THANK YOU. Customer for life Peter Altman On a special note. AMBER has to be one the nicest and one super professional person I have ever known. Amber always goes beyond the norm in any aspect. Again, the talented employees at Costello's are extremely hard to find a team like that. Costello's did it. Thanks again
I absolutely love this place the best staff ever! Knowledgeable,caring, just really there for the community. I'll never do a big box store again. They really make you feel like a person and not just a customer.