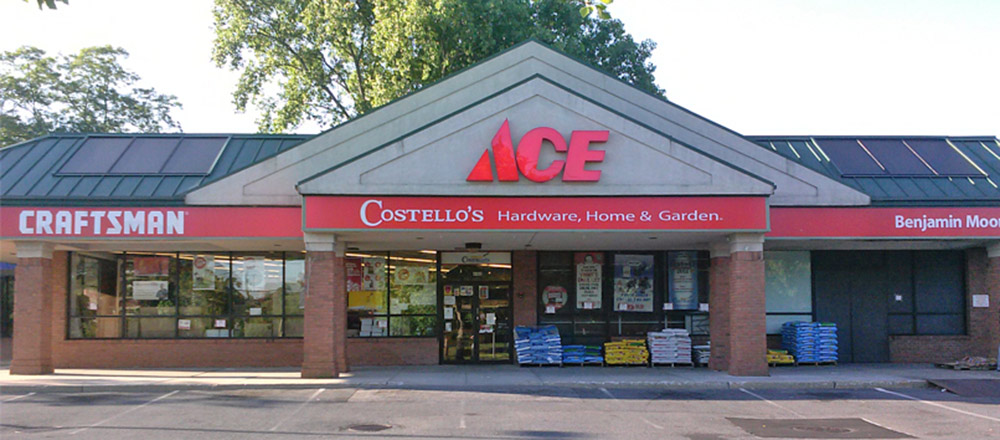 Costello's Ace Hardware of West Islip
448 Union Blvd
West Islip, NY 11795
Fax: 631-422-5492
Managing Partner:
Scott Douglass
Directions
AceHardware.com

STORE HOURS
| | |
| --- | --- |
| Sunday | 8:00am - 6:00pm |
| Monday | 8:00am - 9:00pm |
| Tuesday | 8:00am - 9:00pm |
| Wednesday | 8:00am - 9:00pm |
| Thursday | 8:00am - 9:00pm |
| Friday | 8:00am - 9:00pm |
| Saturday | 8:00am - 9:00pm |
---

What Our Customers Are Saying
OK... kudos to Ace hardware on Union! Today I took my Knives to be sharpened. My cleaver was my father's from 1950's. So I wasn't to hopeful. OMG cleaver sliced through a tomato like hot knife through butter. It was so reasonably priced $7.00 each knife. I have a few Damascus Japanese knives that I am particular with and the Manager sharpened all with perfection. I will never let them go semi dull again. Head over to Ace hardware. Highly recommend. From dull to delightful sharp.
Great store. Clean and fully stocked.
Staff was very helpful. They didn't have what I needed in stock, even though the website said that they did. The young man helping me tried quite hard to find it, even going so far as to check the top shelves. After several minutes and looking through a couple more aisles, we admitted defeat, but he said that he could order it for me. He looked it up, put the order through, took my payment, and said they would call me in a few days. He was very knowledgeable and the process was quick and easy. Shopping here has always been a pleasure.
I am a frequent customer and came in today looking for a very specific small bolt and received a very kind welcome and all the help I needed from a salesman named Frank. The value of the sale was about one dollar but the overall value to me as a customer was worth a lot more than that. Thank you for taking the time to take care of me!
They have everything! Especially those odd household needs that you can't find in the other places. And the prices are reasonable. What's great is they also help you with purchasing and they give you tips on what and how with The Organized Guy!